Interest in our private/hybrid cloud solutions?
Nutanix  Hybrid Cloud Infrastructure (HCI) is a software-based private/hybrid cloud platform (Software defined DataCenter in the Box) for the efficient implementation of your digital services, be it as Infrastructure as a Service, Platform as a Service, Infrastructure as Code or in some services also as SaaS. It combines both the advantages of a cloud (scalability, 1-click management, on-demand usage, agility, continuous updates) and those of your own data center (availability, control, predictability, freedom of choice in hardware and hypervisor) and offers you the easiest-to-use central management interface on the market for administration. Built on our industry-leading Hyperconverged Infrastructure (HCI) technology, it integrates compute, storage, native virtualization and networking into a full-stack solution that can run virtually any application. This makes Nuatnix one of the most valued providers in the software environment: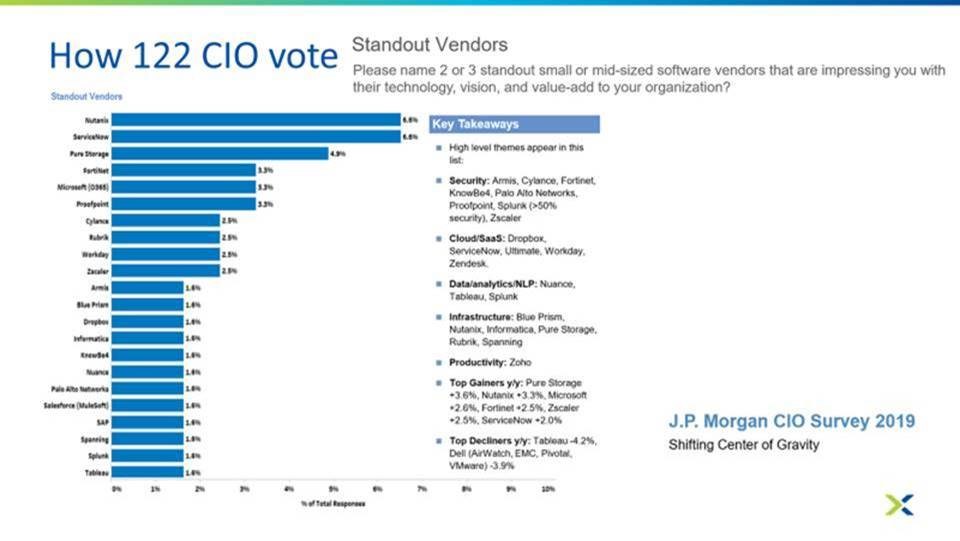 That's why Gartner, Forrester and IDC also regularly elect us as leaders:
One-Click Simplicity
Reduce complex IT tasks to a single click and minimize dependency on IT specialists.
One administration interface
In a typical IT environment, there are several user interfaces to manage, ranging from storage, virtualization, data protection, file servers and more. Nutanix reduces all this to a single user interface.
100% software
Use one OS across multiple hardware platforms, clouds and all IT locations, as a software defined DataCenter in a box.
Freedom of Choice
Choose the hardware (DELL, HPE, Lenovo, CISCO, Fujitsu), hypervisor (ESXi, HyperV, KVM (own hypervisor AHV), cloud (AWS, Azure, Google) and consumption model that best fits your needs.
Reduction of OpEx and Total Cost of Ownership (TCO)
Reduction of IT costs by up to 40-60%, according to IDC.
Rapid deployment – "What if you could plan the entire infrastructure deployment in a single meeting?
Deploy and manage and extend a complete infrastructure stack in minutes.
Build your private, hybrid or multi cloud
Former Google developers were responsible for the development of our OnPrem platform in the early days. Already here, value was placed on a future-oriented architecture (web scale) for easy scaling, the current HyperVisor (KVM derivative used in all clouds), without having to forego the possibility of using HyperV and VMware ESX.
Security – Ransomware Detection
The Nutanix Enterprise Platform combines the simplicity of HCI with native platform hardening, security auditing and reporting, and network threat protection as part of a "zero trust" philosophy that helps prevent cyberattacks and data loss.
Award-winning support
90+ Net Promoter Score (NPS)
Here's how Nutanix can impact cost savings: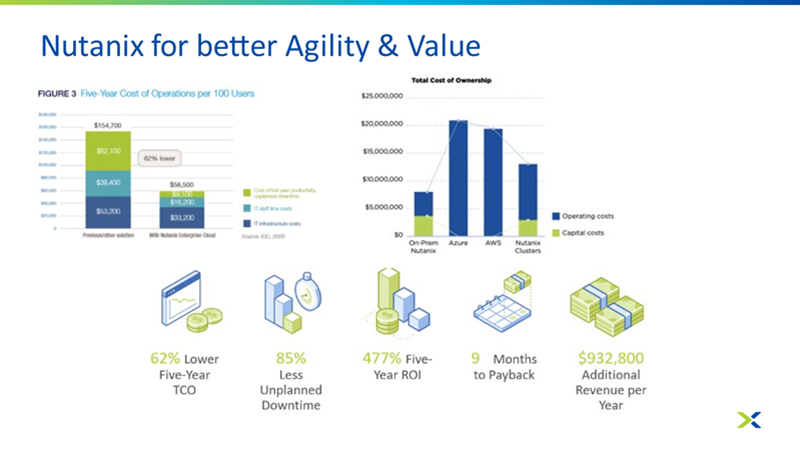 Our own example:
How Nutanix Moved to Hybrid, Multicloud IT
See you soon!